We stand by the idea that top shelf cannabis is for everybody. Everybody deserves to experience the best flower on the market, but it can be difficult to sift through the good and the bad, deciding which is which. So, we're here to help.
To determine what's considered to be the 'best of the best,' we take into consideration nug density, terpene profile, parent genetics, growing conditions, trichome density, color… the list goes on.
As bonafide cannabis connoisseurs, we've made it our life's mission, and the mission of our entire company, to offer top shelf cannabis to the masses; to source only premium flower, offered at an affordable price point because you deserve to indulge.
The strains featured throughout this blog have rightfully earned their place on our rotating menu. We've deemed them to be of the highest quality, having taken into consideration every facet of the strain and individual buds the plant produces. Rest assured that each and every strain mentioned on this list is worth trying; so whether you're allowing this list to guide your weekly hyperwolf.com weed delivery order, or you're just curious about what's considered 'the best' in the cannabis industry, keep reading for top 5 strains of the week.
Mood: Indica
Vibes: Chill, sleepy, hungry
Terpenes: Unknown
Description: Maybe it's the high THC percentage, or maybe it's the savory flavor that keeps you coming back for more. Either way, Garlic Juice has earned a place on our list of must-try strains because it's a fan favorite that our customers (and staff) can't seem to get enough of. Born from GMO x Papaya, this strain's unique lineage features a light spiciness with hints of pine accompanied by a surprisingly fruity note thanks to its Papaya genetics. If you're searching for a flavor journey from start to finish, West Coast Cure's Garlic Juice is the strain to try!
Mood: Hybrid
Vibes: Relaxing, Joyful, Elevated
Terpenes: Caryophyllene, Limonene, Myrcene
Description: This incredible flower from CBX reigns supreme on our list of must-try strains this week. If you're a true CBX fan and haven't tried Supreme Cream yet, what are you waiting for? CBX really did the world a favor by crossing two of their MOST popular strains, Casino Kush and Cereal Milk, resulting in a fragrant and tasty bud that's rich, complex, and worthy of your weed stash. This ultra-exotic hybrid boasts notes of sweet vanilla with a berry undertone accented by hashish and vapor.
Mood: Hybrid
Vibes: Elevated, Productive, Creative
Terpenes: Unknown
Description: If you're on the precipice of reaching new heights, then High Rise from Connected Cannabis Co. is the best craft cannabis strain to get you there. This perfect wake n' bake strain is best enjoyed alongside some bacon, eggs, and morning coffee thanks to its delicious flavor profile that's citrusy and peppery with a light spice and a little zest. A fan favorite for a reason, High Rise has rightfully earned its spot in our must-try strains this week, and (hopefully) a spot in your regular weed rotation.
Mood: Sativa
Vibes: Uplifted, Energetic, Stimulated
Terpenes: Caryophyllene, Limonene, Humulene
Description: Gelonade is one of the most classic, well-recognized strains for a reason. Deliciously sweet flavor coupled with uplifting effects have skyrocketed this strain to near celeb status. If you're a fan of sweet, fruity citrus and warm, comforting vanilla, then you'll love Gelonade. And if you're a fan of weed strains that elevate your spirits and transform you into a social butterfly, then you'll REALLY love Gelonade.
Mood: Hybrid
Vibes: Chill, Elevated, Relaxed
Terpenes: Caryophyllene, Limonene, Myrcene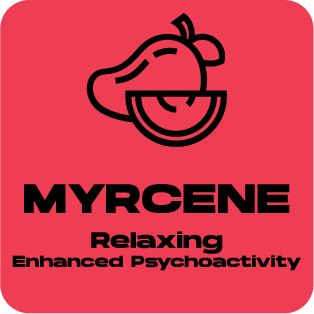 Description: If you're a fan of that classic OG flavor, then you've got to try OZ Kush from Alien Labs — a stunning strain that's considered to be a more elevated version of the classic. Simply put, Alien Labs doesn't miss. Their top-tier, premium strains consistently dominate the industry, and for good reason! With that being said, OZ Kush will easily become one of your staple strains to always have in your weed stash. As a cross between OG Eddy Lepp and Zkittlez, OZ Kush is the perfect wind down strain with fruity genetics and lots of trichomes.
Do you currently have any of our 5 strains of the week in your weed stash? Whether you do or not, we encourage you to add one of these delicious strains to your next hyperwolf.com weed delivery order. Be sure to let us know what you think by leaving us a review, and check back next week for another list of 5 strains you need to try ASAP.