Here at Hyperwolf, we believe that everybody deserves to indulge in top shelf strains. As cannabis connoisseurs and experts in our craft, we've taken it upon ourselves to make premium weed accessible to everybody — despite budget.
If you're new to the niche of top shelf cannabis, it can be difficult to determine between the good, the bad, and the ugly. Sure, you can pick up the bud to analyze density, pull it apart to further determine smell and stickiness, and ultimately smoke the strain. But what if we told you that it can be easier than that?
We do the hard work for you, paying close attention to what's on the market in order to determine what's considered 'top shelf.' To do so, we take into consideration nug density, terpene profile, parent genetics, growing conditions, trichome density, color… the list goes on. We remove the guest work from your weekly weed delivery order so you can rest easy knowing that top shelf cannabis will show up at your doorstep.
The strains featured throughout this blog are currently available on our rotating menu of top shelf strain. We've determined that the following Hyperwolf strains of the week are of the highest quality, having taken into consideration every facet of the strain. Whether you're allowing this list to guide your weekly hyperwolf.com weed delivery order, or you're just curious about what's considered 'top shelf' in the cannabis industry, keep reading for our top 5 strains of the week.
Mood: Indica
Vibes: Euphoric, Sedated, Sleepy
Terpenes: Caryophyllene, Limonene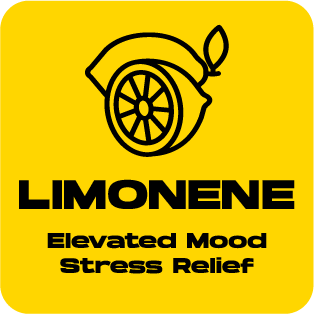 Description: Featured on our lineup of 2 Gram Slams, Jawbreaker is a heavy-hitting indica with surprisingly light and fragrant aromatics. Don't be fooled by the name, Jawbreaker is not a candy-inspired strain; instead, it's known to have a sour flavor profile that's herbaceous, floral, and gassy upon exhale. Similarly, the aromas are that of a flower field: floral and fragrant with notes of lavender and an ever so slight hint of citrus. But enough about the flavor and aroma, let's get into the high. Jawbreaker is known to be heavy hitting, even for the most experienced of stoners. Though effects may vary, Jawbreaker comes across as a relatively easy smoke before transitioning into a strong sense of euphoria that slowly eases into total sedation. If that sounds like your ideal PM wind down, then Jawbreaker may just be the perfect way to end your night!
Mood: Indica
Vibes: Relaxed, Calm, Sedated
Terpenes: Caryophyllene, Nerolidol
Description: Why settle for single stuffed? Double Stuffd M'Oreo from Cream of the Crop is, unsurprisingly, a sweets-inspired strain born from Oreo'z and Mac. Indica-dominant with a unique flavor profile, Double Stuffd M'Oreo is easily your new go-to thanks to a spicy mint scent on the nose while notes of citrus hit your taste buds. As for the high, many stoners report relaxing effects that offer a sense of calm and sedation. Best smoked during the PM hours, replace your usual end-of-the-night sweet treat with a bowl of Double Stuffd M'Oreo.
Mood: Hybrid
Vibes: Happy, Relaxed, Positive
Terpenes: Caryophyllene, Limonene, Humulene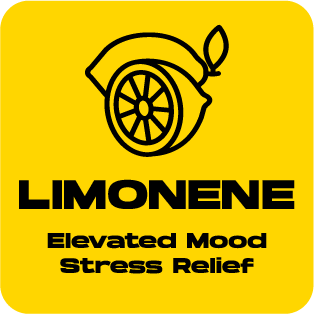 Description: Few strains are as undeniably popular as Gelato 41. More often than not, you'll see this hybrid crossed with another strain to create a unique cultivar — many of which are some of the top rated strains in the industry. But on its own, Gelato 41 is a truly exceptional strain. Created from a genetic cross between Thin Mint Cookies and Sunset Sherbet, Gelato 41 is a fan-favorite phenotype that boasts a sweet flavor profile featuring notes of strawberry, baked goods, and mango. Typically suggested for nighttime use, Gelato 41 is known for its relaxing high that shifts your mindset towards happiness and positivity. With that being said, it's not too difficult to understand just why Gelato 41 is so popular, especially as a base for so many delicious and unique strains.
Mood: Sativa
Vibes: Energetic, Uplifted, Creative
Terpenes: Terpinolene, Caryophyllene, Myrcene
Description: Infused with J1, this premium pre-roll pack is a high-end cultivar for the cannabis connoisseurs. Born from a genetic cross between Skunk #1 and Jack Herer, these J1-infused pre-rolls offer a strong, uplifting high to clear your mind and keep you moving. Its sweet aroma is unmistakable, leaning more towards the some pungent notes as its parent strain, Jack Herer.
Mood: Indica
Vibes: Hungry, Sleepy, Euphoric
Terpenes: Myrcene, Limonene, Caryophyllene
Description: PlugPlay never fails to release some of the best vape pods and batteries in the industry, and Fire OG is the perfect representation of that reputation. A few puffs and you'll almost immediately feel the calming indica effects, which offer soothing relief with every hit. As for the flavor, Fire OG delivers pine and citrus notes for a refreshing experience each and every drag.
Do you currently have any of our 5 strains of the week in your weed stash? If not, be sure to add one (or all) of the above to your next hyperwolf.com weed delivery order, and let us know what you think by leaving us a review. Check back next week for another list of 5 strains you need to try ASAP.