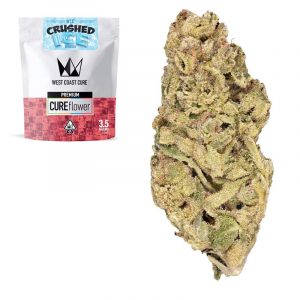 Mood: Hybrid
Vibes: Serene, Happy, Calm
Description:Crushed Ice is a meticulously crafted hybrid that brings together the genetics of Afghani Landrace, Skunk, and Northern Lights. The result? A truly chill experience that embraces your body and mind. The taste? Exceptional. Prepare to be treated to a delightful fusion of sweetness and citrus, with just a hint of earthiness. And when you inhale, get ready to be transported to a serene winter wonderland. It's like taking a mini vacation!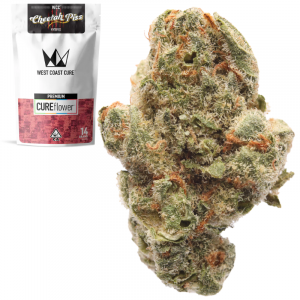 Mood: Hybrid
Vibes: Creative, Calm, Productive
Description: Cheetah Piss is a unique hybrid born from a cross between Santa Cruz Lemon Diesel, Gelato, and London Poundcake. Prepare for a sweet and creamy nose, complemented by strong diesel undertones — a stark contrast from the ammonia-rich Cat Piss strain. Ideal for a mid-day boost, this cultivar relieves stress to spark a creative mindset with each and every inhale.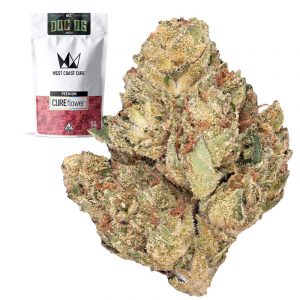 Mood: Indica
Vibes: Relaxed, Stimulated, Calm
Description: No doubt about it, Doc OG is one smooth and flavorful smoke. Bred by Rare Dankness, it brings together the unique genetics of Face Off OG x Rare Dankness #1. With its vibrant green buds and pungent citrus aroma, Doc OG gives stoners an intense cerebral high that can last for hours. It's a truly one-of-a-kind experience with its terps, potency, and flavors. And let's not forget about that gassed-up pine and lemon zest—perfect for chillin' with friends during some downtime.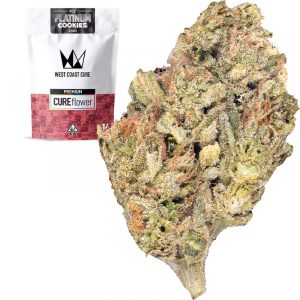 Mood: Hybrid
Vibes: Euphoric, Imaginative, Comfortable
Description: Platinum Cookies is like the versatile version of the beloved GSC strain, best known for its unmatched sense of relaxation. Coming straight from the heart of NorCal, it combines delicious sweetness with savory flavors, leaving a hint of spiciness when you exhale. The buds have an amazing aroma of juicy berries, energizing coffee, a touch of diesel, and creamy vanilla. As for the effects, this incredible bud is known to make way for a euphoric and imaginative high that brings comfort to your body and mind.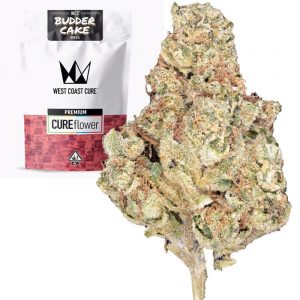 Mood: Indica
Vibes: Hungry, Happy, Relaxed
Description: Budder Cake is the creme de la creme of Wedding Cake varieties. Picked for its smooth, buttery, and sweet vanilla flavor, this strain is the ultimate treat for your senses. Get ready for a mind-blowing experience as Budder Cake's effects tantalize your mind, body, and soul. Just a heads up, this potent strain might give you the munchies! So, be prepared to raid your pantry for some delicious snacks to go with your batch of Budder Cake flowers!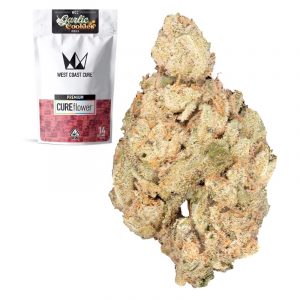 Mood: Indica
Vibes: Uplifted, Relaxed, Chill
Description: West Coast Cure's Garlic Cookies Premium Flower is like the perfect blend of spice and chill. It brings together the awesome genetics of Girl Scout Cookies and Chemdawg, resulting in an incredible strain. This masterpiece has a special flavor profile best described by notes of tangy garlic, onion, and a touch of gas, complemented by subtle hints of coffee and earth. When you try this amazing strain, get ready for some uplifting and relaxing vibes!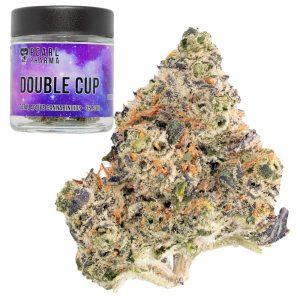 Mood: Indica
Vibes: Sleepy, Relaxed, Hungry
Terpenes: Limonene, Caryophyllene, Myrcene
Description: Double Cup is a dank clone-only phenotype of Amnesia Haze and Biker Kush. Bred by Karma Genetics, it's also known as "Where's my bike". This strain is all about that sweet grape soda flavor and packs a serious punch. The terpene profile? Think fruity, herbal, and sugary – like grape juice!
Mood: Indica
Vibes: Relaxed, Happy, Calm
Terpenes: Caryophyllene, Limonene, Myrcene
Description: When Mint Chip and Rainbow Chip combine, they create Cocobamba, a rich and flavorful bud known for its delightful effects. The dominant terpenes found in Cocobamba are Caryophyllene and Myrcene, which may enhance relaxation, and alleviate stress, pain, and anxiety, while also providing a heightened psychoactive experience. With a sweet and earthy flavor profile complemented by citrus hints and spicy undertones, Cocobamba's effects are said to leave consumers feeling deeply relaxed and comfortable.